Repurpose and Resuscitate! – 6 Reasons to Retrofit your Healthcare Space
Over the last few years, healthcare organisations have demonstrated a tendency to protect and refurbish their existing structures or utilise redundant facilities instead of constructing completely new spaces. Let us look at the reasons behind this growing trend!
Across the country, in the bustling metropolis or smaller cities, day-care surgery centres, speciality hospitals, and diagnostic centres are coming closer to where patients live, work and shop. However, land is a precious commodity in India, and the lack of space available for new construction has healthcare organisations looking for other options. Fortunately, there's plenty of real estate to choose from to set up these ventures.
A once inhabited but now-defunct retail space offers convenient access to highways, plenty of parking, and amenities that a healthcare facility would desire. But converting former commercial locations into contemporary healthcare clinics doesn't come without challenges. So the question is, why is this STILL an attractive option for facility owners?
1. Keeping costs low
There has been a flow of funding for capital projects within the Indian healthcare sector, and new projects are coming up quickly. However, with land availability decreasing in the cities, stakeholders are looking toward non-operational retail or commercial premises to start their ventures.
With congested urban infrastructure and limited construction budgets in light of the economy, many healthcare facilities consider refurbishment and retrofitting as viable alternatives to a new-build project. Since the structure already exists, we can reuse materials and resources, saving project overheads.
However, there can be hidden costs in reusing old buildings. For example, some may need to be decontaminated and need significant renovations to abide by the current and future building codes.
2. Keeping history alive
Many healthcare facilities in India are heritage structures built during colonial times and need to be preserved. Shree Designs had the pleasure of refurbishing the existing psychiatric facility at Masina Hospital in Mumbai, established in 1902. The 8-acre hospital complex is a Grade II Heritage Structure and must be preserved. In addition, our designs made provisions for modern amenities, like in-suite washrooms within private patient rooms.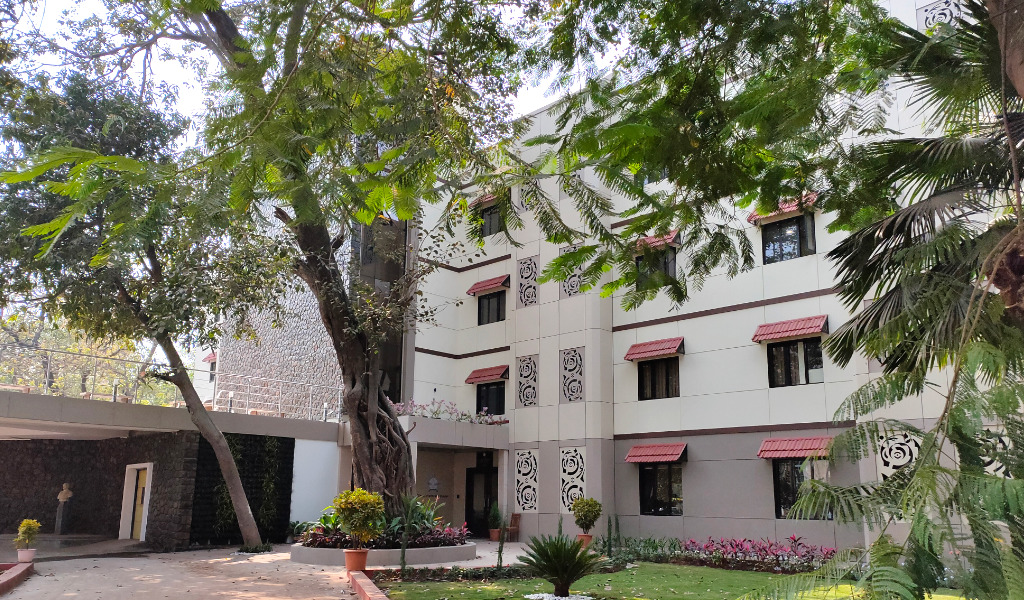 3. Keeping up with innovations
Healthcare facilities are constantly evolving in technology, methodology and care delivery systems. Retrofitting is an apt way to keep in step with the transformation. Many existing health facilities are driving refurbishment projects to accommodate new clinical technology.
4. Keeping standards high
Accreditation is the name of the game in today's healthcare industry. To provide quality healthcare services with effective infection control practices, facilities must comply with stringent NABH and JCI standards to get certified.
5. Keeping the environment safe
"It is wildly carbon-intensive and environmentally damaging to tear down a building. If that building could be repurposed in some way, it would be much better for the planet and architect's creativity"

Brenna Lonergan, The Future of Architecture
Small changes in existing infrastructure can bring about significant changes in an organisation's carbon footprint. Instead of building new facilities, retrofitting existing ones can effectively bring them to the modern age.
6. Keeping patients satisfied
By providing patients with new environments, where one is free to experiment with elements of healing spaces, colour schemes that promote well-being, and the construction of more patient-centric facilities, healthcare organisations see the appeal in repurposing their existing structures.
Healthcare retrofits provide numerous benefits ranging from improved equipment longevity and decreased patient recovery times to a more attractive brand presence.
Retrofitting Challenges! There's more to it than meets the eye!
While it does seem like a desirable proposition to opt for repurposing spaces instead of starting from scratch, projects like this have their unique challenges. Therefore, before starting a project like this, we need to consider several other factors.
Our previous blogs on adaptive reuse of existing spaces and retrofitting for healthcare facilities speak about these factors in detail.
While adaptive reuse is a decision often made purely by judgments, there are often criteria for deciding whether a building should be conserved and reused or just demolished for the area of land it occupies. Some of these determining criteria include:
There is no established 'rule of thumb' for identifying buildings suitable for healthcare adaptation. However, preliminary adaptive reuse assessments can aid in evaluating the existing condition of buildings, including HVAC systems, plumbing, structural components and electrical and fire systems for buildings under consideration.
Staircase width – A retail or commercial space design allows for a 1.5m wide access staircase, while a healthcare facility necessarily requires a 2.0m wide access staircase as per the NBC (National Building Code).
Fire rules – The fire regulations of NBC have made it mandatory to have a minimum of enclosed two staircases, with a minimum travel distance being 15m and a maximum of 22.5m between the routes of escape. Thus, it becomes essential to Introduce a staircase to comply with the rules at times.
Lifts – Retail or commercial premise has passenger elevators, while a hospital needs bed lifts to transfer patients between floors, which need to be incorporated.
Equipment- Incorporating heavy and oversized equipment like the CT scan or MRI scan in existing buildings does come along with its challenges. For example, malls and commercial buildings have glazed facades that must be dismantled and re-done to gain entry.
Whether we are breathing new life into an already existing facility to adapt to current practices or converting a defunct structure into a brand new healthcare facility – we face plenty of challenges. Existing healthcare centres need to be kept at least partially functional, and infection control practices need to be followed to run a safe site.
Despite these challenges, there is no greater satisfaction than turning over a well-executed, retrofitted site to our clients despite these challenges!
Take a look at how our talented team at Shree Designs used their skill to repurpose and retrofit a healthcare facility in commercial mall space. The before and after pictures are striking!