Patient-Centred Care and Community Healthcare – Two Sides of the Same Coin
Patient-centred care focuses on individual patients' healthcare needs and desired health related outcomes. Whereas, community healthcare primarily focuses on the protection, maintenance and improvement of a relatively larger group of individual patients. While their definitions make them seem different from each other, their relation is symbiotic and their ultimate goal is the same; patients' well-being and quick recovery from illnesses. With this article, we would like to cover the important aspects of patient-centred care, keeping community healthcare in perspective.
The underlying principle of patient-centred care is to deliver healthcare in a manner that works best for the patients. The core values, while designing healthcare facilities in accordance with this approach, are to ensure safe, effective, efficient, timely and equitable care. Patient-centred care can be administered well through a partnership between informed patients, their families and a coordinated healthcare team. The seven prime aspects of patient-centred care are as follows.
Respect for patients' values, preferences and expressed needs.
Co-ordination and integration of care.
Patients' physical comfort.
Information, communication and education for healthy doctor-patient relationships.
Patients' safety and emotional support.
Involvement of patients' families and friends.
Smooth transitions and continuity of treatment and recovery procedures.
It is easier to implement patient-centred care practices when the healthcare facility is designed accordingly and the healthcare providers are trained suitably. The following infrastructural design parameters must be taken into consideration, in this regard.
Improved Accessibility in the Common Spaces
The common spaces in the facilities such as entrances, corridors, staircases, etc. typically, see a lot of movement of humans and equipment. The mobility for patients both, independent and assisted, in these areas can be improved by providing the following.
Ramps with proper gradients and non-slip surfaces at the entrances to facilities and at all level changing locations.
Hand-rails and grab-bars at strategic locations, mainly staircases, ramps, toilets and also along the length of the corridors, to prevent falls.
Intelligible Signage, Department-Name Plaques and Other Directional Tools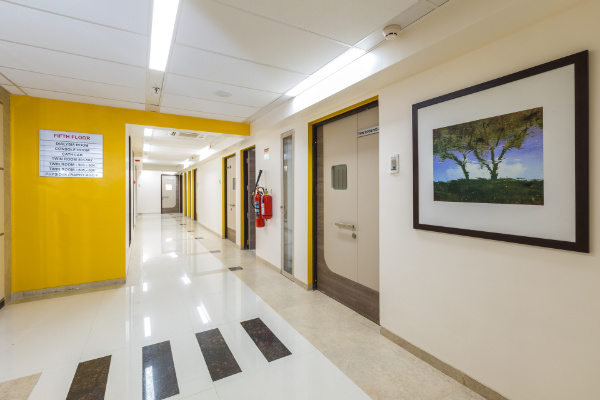 Within the healthcare facility, patients, their relatives and caregivers may have to navigate through multiple departments, offices or wards. Clear and unambiguous directional tools will help maintain patients' privacy, manage visitors, avoid disturbances and reduce instances of disorientation. The following items can be incorporated in the overall design of the facility.
Colour coded strips / lines marked on the floor or walls indicating directions.
Glowing signs and indicators for ensuring patients' privacy and reducing accidental disturbances.
Manned guiding stations are recommended to orient people to their destinations in certain scenarios, especially those falling under community care.
Controlled Movement of Patients, People and Supplies
Mobility management of patients, visitors, caregivers, equipment and supplies is the most critical aspect when community healthcare and patient-centred care, cross paths. It is advisable to ensure minimum or no contact between patients suffering from epidemic diseases and other people in the healthcare facility. The following arrangements may help in achieving this.
Setting up triage stations outside the facility to screen patients before they enter.
Isolating the patient in an examination room with the door closed and ensuring that the patient is not allowed to wait among other patients seeking care.
Establishing a separate, well-ventilated space with easy access to respiratory hygiene supplies and maintaining separation of 6 feet or more among the waiting patients.
In some settings, allowing patients to wait in a personal vehicle or outside the healthcare facility where they can be contacted by mobile phone when it is their turn to be evaluated.
Facilitating the movement of in-patients from rooms / wards to treatment / diagnostic areas through separate corridors, other than that used by visitors. It helps to minimize the risk of direct transmission of infection and also, patient discomfort.
Bifurcating out-patients' visiting, diagnostic and treatment areas from functional areas and zones allocated for in-patients.
Restricting visitors and having simple and direct routes to in-patients without crossing functional areas, wherever possible.
Demarcating visitors', patients' and service travel routes using colour codes. For instance, green for patient movement, yellow for visitors and blue for services. Pastel shades could be used to create a soothing experience.
Thorough Patient Privacy and Comfort
Efficient patient-centred care can be provided to the patients obtaining community care as well. Some of the practices that can be undertaken are as follows.
Placing patients or suspected patients of respiratory infections, like the Coronavirus disease, in single-patient, closed-door rooms with dedicated bathrooms.
Reserving Airborne Infection Isolation Rooms (AIIRs) for patients who are deemed as high-risk patients.
Providing adequate number of toilets for patients in isolation, preferably one for each patient, for the isolation to be effective.
Installing movable privacy partitions or curtains to give privacy to the patients during medical examinations and procedures.
Creating sufficient space between the beds, in cases where rooms are shared among the patients, to avoid cross-infections.
Enabling the passage of natural light and views of the outdoors, wherever possible, to maintain the circadian rhythm of the patients. It has been proven to help in the recovery, significantly.
Installing and maintaining air-handling systems with appropriate directionality, filtration, exchange rate, etc.
Affixing glare-free, artificial lighting with individual controls for each room / cubicle to cater to the patients' preferences.
High Standards of Hygiene, Sanitation and Cleanliness
A well-designed healthcare facility should aid regular sanitation, maintenance of cleanliness and hygienic practices for all its users. The following arrangements can be made to ensure the same.
Providing for respiratory hygiene and cough etiquette supplies at facility entrances, waiting rooms and patient check-ins. These supplies include Alcohol-Based Hand Rub (ABHR) with 60% – 95% alcohol, tissues and no-touch receptacles for their disposal.
Constructing adequate and easily spottable toilets in key locations.
Using seamless, healthcare-grade vinyl flooring and SGPVC wall cladding for preventing the logging of dirt and germs. These durable materials are easy to clean as well.
Creating adequate and ergonomic housekeeping spaces.
Planning for proper Heating, Ventilation and Air Conditioning (HVAC) design by effective ventilation, addition of air-fresh component in air-conditioned areas and cross ventilation in non-air-conditioned areas. This will also help in odour control.
Robust Co-ordination and Integration between Facilities
Co-ordination between different departments and among caregivers is a functional requirement of any healthcare facility. The best healthcare facility designers can help in achieving this through their design, by focussing on the following aspects.
Designing rooms and wards that allow visual supervision of patients by caregivers from their stations.
Promoting efficiency of the staff by minimizing the distance of travel necessary between frequently used spaces.
Providing diagnostic, treatment and recuperative facilities in the same premises aids co-ordination among the caregivers and also reduces unnecessary movement of the patients.
Designing based on optimal functional adjacencies, depending upon the hospital's operations from the standpoint of patients, staff and supplies.
Transparent Information, Communication and Knowledge Transmission
Patient-centred care and community healthcare being catered to at the same facility, does require information related to safety, risk of infection and other hazards to be communicated to all the people present or visiting the premises, clearly. Apart from that, the need for effective and efficient means of communication is also a must. The following items need to be implemented for the same.
Provision for affixing visual alerts, like signs or posters with multi-lingual instructions related to hand hygiene, respiratory hygiene and cough etiquette. These can be put up at strategic locations such as entrances, waiting areas, elevators, cafeterias and other locations which draw attention of the patients, caregivers and visitors.
Communication of protocols regarding disposal of tissues and contaminated items in waste receptacles.
Providing counselling rooms for doctors to discuss about the diagnosis, prognosis and other treatment-related information with the patients or their relatives.
Enabling good networking connections with Hospital Information Systems (HIS) access to all the caregivers in direct contact with the patient, in order to provide accurate and timely information of treatment.
Setting up telemedicine facility to help doctors share information and technology across cities / countries.
Considerate Care for the Caregivers
While the primary focus of patient-centred care revolves around the patients, the caregivers who cater to their needs also have to be provided with the following to aid in their routine.
Physical barriers, like glass or plastic windows, at the reception areas to limit close contact between triage personnel and potentially infectious patients.
Adequate number of hand-washing and equipment sterilization facilities.
Sufficient resting spaces for the caregivers, for their breaks.
Separate toilets and changing areas, especially taking frequent changes of shifts into consideration.
Proper dining areas and cafeterias.
Adequate spaces for the caregivers to assemble for briefings and trainings.
Advanced Airborne Infection Isolation Rooms (AIIRs)
AIIRs are rooms specifically designed to cater to patients suffering from airborne, droplets-borne or any other high-risk contagious infection. Healthcare facilities serving towards community care while practising patient-centred care, certainly need state-of-the-art AIIRs to ensure maximum safety. They are single-patient rooms at negative pressure relative to the surrounding areas. The following parameters are very vital to their design.
The recommended rate of air changes is 12 per hour. The minimum required rate of air changes is 6 per hour.
Air from these rooms should be exhausted directly to the outside, in a safe manner or be filtered through a High-Efficiency Particulate Air (HEPA) filter directly, before recirculation.
Room doors should be fitted with air-locks and kept closed except when entering or exiting the room.
Entry and exit to AIIRs should be restricted and minimized.
Facilities to monitor and document the required negative-pressure accurately, have to be provided.
For elaborate details on isolation room design, you may refer to our recent article Isolation Rooms – The Need of the Hour.
Conclusion
The quality of a healthcare institution is determined by its ability to provide exceptional community healthcare facilities with the flexibility of maintaining excellent patient-centred care. Restoring good health of the patients, individually or being a part of community care, is the ultimate goal. This makes patient-centred care and community healthcare, the two sides of the same coin.
The current Novel Coronavirus pandemic is posing a challenge of sorts, to the best of healthcare institutions. While the patients being treated for the Coronavirus disease need to be isolated, the necessity to provide top-quality healthcare for other patients, can't be ignored. There is an urgent need to assess whether your healthcare facility is in compliance with the guidelines issued by the Centres for Disease Control and Prevention (CDC). In this regard, consult an expert in healthcare facility planning and design, right away!
Principal Architect,
Shree Designs – Healthcare Architects & Planning Consultants
---
Additional Reference:
https://www.cdc.gov/coronavirus/2019-ncov/infection-control/index.html