Social Distancing – The New Normal in Healthcare Facilities Planning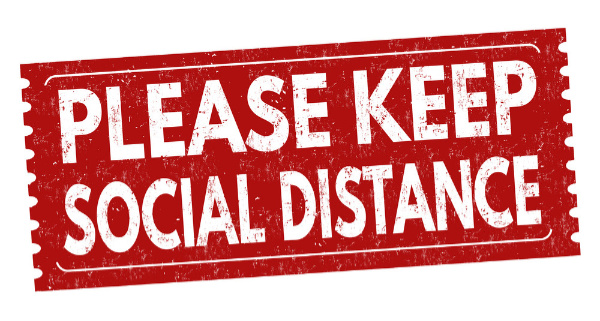 Social distancing, a concept that has been around for ages, is one of the most vital measures prescribed for infection control, in the current Coronavirus pandemic situation. Due to the necessity to plan maximum facilities in the available space, social distancing was often considered non-practicable. Also, the rising property and development costs contributed to greater emphasis on the optimum utilization of space in healthcare facilities. However, social distancing is set to become a crucial element in the designing and planning of all infrastructure including healthcare spaces, in the near future. As healthcare design experts, we wish to highlight the changes that must be factored into the designing of healthcare facilities, to help with the cause.
Generally, a well-designed healthcare institution would have incorporated the basic principles of social distancing in areas occupied or frequented by patients, like the wards, rooms and intensive care departments. However, due thought must be given to implement these principles additionally, in other areas like doctor consultation rooms, counselling spaces, waiting spaces and so on. Social distancing, an aspect of community healthcare, needs to be a part and parcel of patient-centred care. For more on the subject, you may refer to our recent article Patient-Centred Care and Community Healthcare – Two Sides of the Same Coin.
Social distancing, an aspect of community healthcare, needs to be a part and parcel of patient-centred care.
The ideals of social distancing can be achieved only by the combined efforts of the doctors, patients, their relatives and the hospital staff. In this article, we would like to focus on those areas in healthcare facilities, which are usually crowded with people. On that note, how social distancing will impact the design parameters of the following areas will be elaborated.
Counters or desks, including the reception helpdesks, billing desks, pharmacy and canteens
Waiting zones for the Out-Patient Departments (OPDs)
Circulating corridors connecting the departments
Cafeterias and staff dining areas
Patient-Care Areas
Counters and Desks
The first thing that we encounter after entering any facility is the reception area, at the entry of the facility and at each of the departments. Almost every person visiting the facility reaches out to the reception to gather information or seek guidance and directions. This either results in people gathering at random or in organized queues. Similarly, the billing desks and report collection desks also witness long queues.
Queuing lines ahead of pharmacy and canteens are required for the smooth functioning of the dispensing / distributing activity. Earlier, the width of the queue would be 2 ft. (0.61 m.) and the person-to-person distance would be 1 ft. and 6 in. (0.46 m.). While queues can't be done away with in entirety, the following changes can be implemented to allow social distancing.
Billing queues can be curtailed by promoting online transactions.
Digital modes like e-mails, to be preferred for sharing diagnostic reports with the patients. Fixed timings can be allotted for cases where physical copy of the reports is necessary.
Staggered timings for the use of pharmacies and cafeterias to avoid close contact between the patients, visitors and caregivers, as much as possible.
Width of the queue must be 4 ft. (1.22 m.) and the person-to-person distance must be maintained at 3 ft. and 6 in. (1.07 m.).
Closed-counter with physical barriers like glass or plastic windows in receptions and billing desks to avoid close contact with potentially infections patients.
Waiting Zones
Waiting zones at the entrance of healthcare facility and outside the OPD are areas catering to more number of people gathering for longer durations, in comparison with the other areas in the facility. The space planning of these waiting areas is very critical from both, the patients' and doctors' perspectives. Therefore, the space requirements for waiting areas need to be defined accurately.
Earlier, a good standard was to calculate 20 sq. ft. (1.86 sq. m.) per person for small seats and 35 sq. ft. (3.25 sq. m.) per person for lounge-style seating. However, in practice this was usually around 13 sq. ft. (1.21 sq. m.) per person. Allotting a larger area for waiting zones alone, might not be sufficient to maintain social distancing. The following points can be incorporated to help with the same.
The scheduling of OPD appointments can help minimize the number of people in the waiting area. However, this may not be a feasible solution for the Casualty and entrance waiting areas as they accommodate the walk-in patients.
Seating arrangements must be a combination of individual seats, separated by tables or planters, and isolated pods seating 2 to 3 persons in each pod. This will prevent the people from cluttering together.
Physical distance between the patients can be increased by planning seating arrangements with a minimum of 35 sq. ft. (3.25 sq. m.) per person and a maximum of 50 sq. ft. (4.65 sq. m.) per person.
Corridors
The corridors in a healthcare facility, witness heavy footfall owing to the inter-departmental movement of patients, doctors, caregivers, visitors and equipment. Additionally, there's people movement between wards for the transfer of linen, medicines and samples.
Currently, corridors are planned 6 ft. 7 in. (2 m.) wide, considering two-way movement of people, including stretchers. Horizontal circulation spaces account for nearly 15% to 20% of the area of a hospital. While it is practically tough to implement social distancing at all times, the following design parameter changes can be considered for optimum results.
The width of the corridors need to be increased to 10 ft. (3.05 m.) for two-way corridors.
Consequently, horizontal circulation spaces would increase to 22.5% to 30% of the area of the hospital.
Significant reduction in the people movement for transfer of supplies, medicines, samples and equipment can be achieved by providing for mechanical transport systems like dumb-waiter lifts, pneumatic chute systems, etc.
Cafeterias and Dining Areas
Earlier, dining areas were planned with a view to promoting pleasant exchanges among the staff. The cafeterias encouraged interactions among the patients and visitors.  Therefore, restaurant-style seating was the norm. However, with social distancing becoming a priority, the designing criteria have changed. Dining spaces must be designed to increase the separation among the people present in the area and to reduce the need to come in contact with multiple surfaces. With social distancing becoming a priority, the following changes can be incorporated in the design of these spaces.
Individual seating, possibly with a view of the outdoors, would be preferable.
Even if group seating is provided, the seating should be spaced out sufficiently.
Minimum space between two tables must be 5 ft. (1.52 m.).
Patient-Care Areas
There was always the requirement of 5 ft. (1.52 m.) for the minimum distance between two patient beds. But this was seldom followed, in a bid to accommodate optimum number of patients in the available space. Also, the current design trends advocate an informal seating in clinics or counselling spaces. The intention is to create a casual setting for the comfort of the patients and their relatives, during interactions with the health experts. However, the need for social distancing will bring about the following changes with respect to patient-care areas.
It would be mandatory to keep the requisite distance between not only the patients' but also the relatives' beds.
Inclination towards planning more number of single rooms as against multiple-bedded wards will increase, thereby increasing the ward spaces.
Clinics and counselling spaces will revert to the traditional seating arrangement with tables measuring 2 ft. and 6 in. (0.76 m.) wide, to maintain a reasonable distance while communicating with the patients.
Conclusion
Simply put, healthcare institutions need to be spacious and its daily operations need to be streamlined, to facilitate social distancing. Where space is at a premium, it is indeed very challenging to put together administrative systems and align the design parameters with this paradigm shift, which will be a norm in the coming time. An expert in healthcare facility planning and design should certainly be able to help you with that!
Associate Architect,
Shree Designs – Healthcare Architects & Planning Consultants
---
Text curated by Sangam Ramachandran