What is the Key to a Successful Brownfield Healthcare Project?
In 2019, India had nine hospital beds per 10,000 people. Compared to China, with 41 beds, Sri Lanka, with 31 beds, and Thailand, with 22 beds, this number seems extremely low. We know that secondary and tertiary healthcare facilities are in great demand but, unfortunately, in poor supply. While the challenges of setting up new hospital building projects may be too intimidating for entrepreneurs, hospital owners are more open to brownfield projects.
Existing hospitals need to manage the health needs of patients in terms of volume, service specialization, and patient expectations. In addition, healthcare technology is evolving rapidly, and the existing infrastructure needs to change to accommodate newer equipment or services. With increased safety and sanitation requirements, there's a need to re-evaluate existing structures and workflows. Facility upgrades in medical design and construction are, therefore, inevitable for most healthcare providers.
As healthcare architects, we have planned and executed many greenfield and brownfield healthcare projects over the years.
Check out our detailed blog on how to plan a greenfield healthcare facility, linked here!
How do we start with hospital architecture design and planning in an existing healthcare facility?
Read on to find out!
Refresh, Rebuild, Repurpose! – Setting up a Brownfield Healthcare Facility.
The decision to redesign an existing healthcare campus or expand on the same site may seem complex and difficult for the hospital operator. After all, merging the old with the new is always challenging.
What is the aim behind a successful brownfield hospital development?
Owners want to build a modern new facility while maximizing the value of the existing infrastructure. What makes it even more challenging – is ensuring uninterrupted operations for the staff, patients, and visitors at the healthcare centre.
What are the critical factors behind re-designing hospitals and healthcare facilities?
With the rapid changes in the healthcare industry, it is clear that proactive, not reactive, planning is paramount. Physicians and owners will usually consider the following options when repurposing an existing structure.
They will thoroughly estimate risk and cost, as well as the availability of capital investment.
They want to ensure their hospitals operate efficiently and meet current service demands, changing service delivery and future volume growth.
They want to revamp aging infrastructure that cannot support today's systems and technologies.
They will analyse the patient community's attachment to the current site.
They will consider the professional community's (doctors/ consultants/staff) preference for the existing site as their workplace location.
They will evaluate the availability (and expense) of new land within the hospital's catchment area.
Check out our blog detailing why hospital owners choose to refurbish their centers rather than break ground on a completely new building. Read it here!
Successful projects in hospital planning and designing
are well-defined
have good governance structures
are managed by collaborative teams
With refurbishment and extension projects, we have found that the early design stage must be more detailed. When we get input from all key stakeholders – the staff, community, and end users – we can enable the right workflow for efficient healthcare delivery

Kshititi Nagarkar, Shree Designs
How can a healthcare architect help you navigate the challenges of a brownfield design project?
Some older buildings may not be able to allow vertical extension. Healthcare architects can assess and test the existing structures and their foundations to determine if they can hold the additional weight of new structures above. Heritage issues will also need to be identified and circumnavigated if certain aesthetic or functional aspects of the building need to be preserved.
If the hospital or clinic needs to remain functional throughout the construction period, healthcare designers will:
Suggest ways to maintain existing logistics and access around the builder's compound for worker access or material unloading. These should not conflict with existing site operations.
Ensure that electricity and water supply remain uninterrupted.
Reduce the impact of construction works on adjoining sensitive facilities like MRI bunkers, operating theatres, etc.
Experts in hospital design ensure that occupational health and safety across the campus are maintained for staff, patients, and contractors during the building work.
Fire services to an existing building often will not comply with current regulations and building codes. Therefore, healthcare architects will assess the structure and add fire safety recommendations for the new building.
Existing buildings may have lower floor-to-floor heights that must be linked effectively to the newly constructed areas. Healthcare facility designers using their specialised experience with brownfield sites can streamline the plans, building the structure seamlessly.
Shree Designs has enjoyed working with many healthcare organizations as they upgraded their facilities. One of our clients, the Specialty Surgical Oncology Hospital and Research Centre in Mumbai, wanted to expand the 6-floor facility and set up an Outpatient Department and additional Inpatient Departments on the 7th floor. The client's vision was to create a dynamic design with a modern touch. In addition, they wanted an aesthetically appealing patient-centred care facility, which matched well with our firm's ideology and became a common ground for the whole team involved in the project. Check out the results on our project page linked here!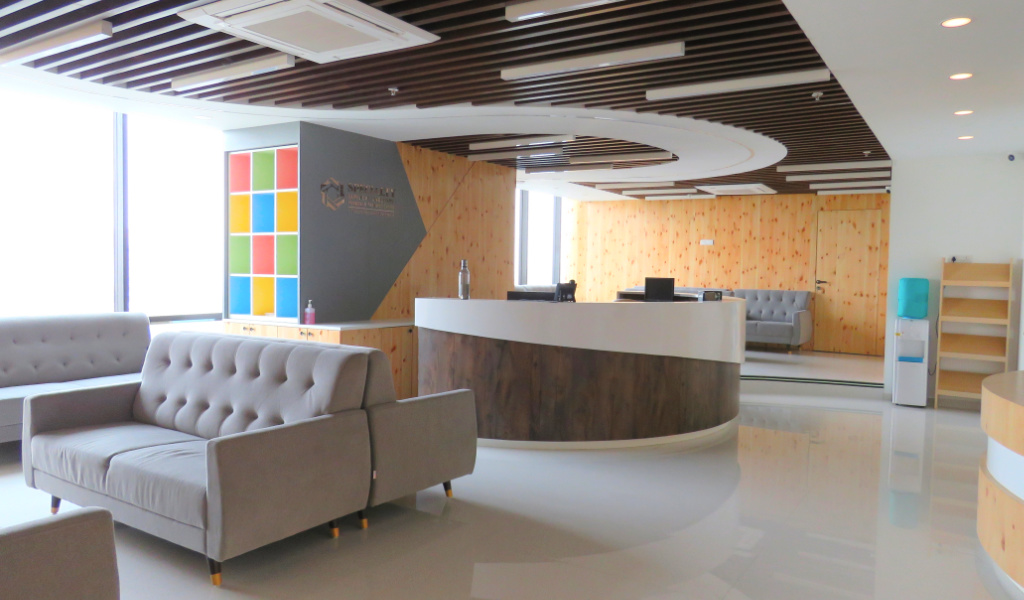 We also worked on the refurbishment and exterior elevation of Masina Hospital in Collaboration with AARKA Consultants, where the façade of the heritage precinct was designed to complement the structures on the premises while avoiding any structural damage.
Takeaway message:
The demand for vital healthcare services is on the rise. As a result, brownfield healthcare design is an appealing option for owners and providers as they re-purpose their existing facilities.
Through the successful delivery of many brownfield redevelopments, we have learned that having access to precise and proficient healthcare design teams can build the foundation for a strong and long-lasting facility.