Malls are going through a downturn as there is a decrease in the number of people spending hours in the mall, window shopping and purchasing.
Technology has moved many shoppers on-line. The year 2015 witnessed a revival of developers' interest in commercial spaces. Though a lot of these are being taken UP for office spaces, almost 2096 of these are still vacant. While no one likes to see businesses dip, dead malls and the extra commercial spaces can provide great opportunities to redevelop them. We can expect to see these spaces re-inhabited, re-greened and retrofitted for new business.
Now is the time for authorities to remove the regulatory obstacles to promote adaptive reuse of buildings, which is perceived as an effective way of reducing urban clutter and environmental impact. By reusing an existing structure within a site, the energy required to create these spaces is lessened,
as is the material waste that comes from destroying old sites and rebuilding using
new materials.
Let's explore how we can adapt them for use as healthcare facilities namely hospitals. There is no established 'rule of thumb' for identifying buildings suitable for healthcare adaptation. Preliminary adaptive re-use assessments can aid in evaluating the existing condition of buildings including HVAC systems, plumbing, structural components and electrical and fire systems for buildings under consideration.
While the process of adaptive reuse is a decision often made purely by judgments, there are often criteria for deciding whether a building should be conserved and reused or just demolished for the area of land it occupies. Some of these determining criteria include:
Land rules – Staircase width – A retail or commercial space design allows for a 1.5m wide access staircase, while a healthcare facility necessarily requires a 2.0m wide access staircase as per the NBC (National Building Code).
Land Rules – Fire rules – The fire regulations of NBC have made it mandatory to have a minimum of enclosed two staircases, with minimum travel distance being 15m and maximum of 22.5m between the routes of escape. Thus, at times, it becomes essential to Introduce staircase to comply with the rules.
Technology – Lifts – Retail or commercial premise has passenger elevators, while a hospital needs bed lifts to transfer patients between floors, which need to be incorporated.
Technology – Equipment- Incorporating heavy and large equipment like the CT scan or MRI scan In existing buildings does comes along with its challenges. Malls and commercial buildings have glazed facades which need to dismantled and re-done to gain entry inside.
Operational practices- Many existing facilities are keen to adhere to the best practices of the industry and are striving to get accreditations for their services. NABH and JCI are the primary ones that are predominant for medium to large set-ups while the recently introduced AHPI standards are applicable for smaller set-ups.
There are many factors that affect the economic return of adaptive reuse of buildings for hospitals. Since the structure is already existing, aspects such as the reuse of materials and resources as well as a lesser need to spend on finances (both in terms of labour and material) can effectively decrease the monetary funds needed for hospitals to establish sites. However, there can be hidden costs in reusing old buildings such as the unknown contagion of older sites, affecting the usability of a building and the possible need for modification of an older building to fit current and future building codes.
Published: February 2016 | Healthcare Radius
---
CASE STUDY FOR ADAPTIVE RE-USE
Shree Design completed a project, which is a good example of adaptive reuse – MITR Hospital at Kharghar.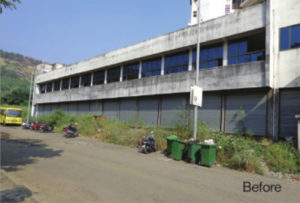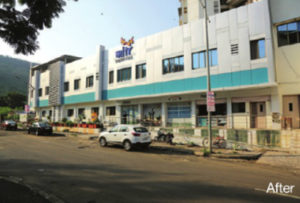 It's a project where the existing building was a commercial mixed use structure. The ground floor was having individual shopping bays and the first floor designed for an office space. Our mandate was to convert it into a hospital with 25 beds for minimally invasive surgeries. The facility was planned for 25 beds in single and twin sharing modular rooms. The OT complex comprises two operating theatres, an endoscopy room, a lithotripsy room and a TSSU while the OPD has five clinic rooms. The diagnostic department consists of X-ray, laboratory and pharmacy.
The structure was first assessed for its suitability for conversion to a hospital. It was augmented with a bed elevator for ease of patient movement through the two floors. The facade was changed to incorporate windows for light and ventilation. The plans were done keeping in mind the NABH guidelines and have all the provisions made for fire detection and firefighting as per norms.
Read more about the project: MITR Hospital at Kharghar, Navi Mumbai