IFJ: The Indian Review of World Furniture, Interiors and Design in its July-Aug 2020 issue, focused on "Hospital Spaces" and featured "Upasani Super Speciality Hospital", one of our crown-jewel projects at Shree Designs.
Below is the article, you may also, access the article in flipbook format here.
---
Upasani Super Speciality Hospital
Design Brief and Aim
To plan a 60-bed multi-specialty hospital, highlighting professionalism and empathetic patient care.
How this was accomplished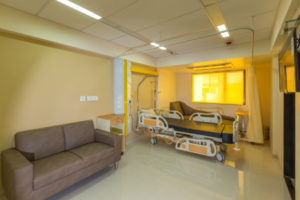 Spread over 50,000 sq. ft., the project needed a design that could handle single, twin, and VIP patient rooms; nurse stations and utility rooms; waiting areas, OPD floor with counselling and X-ray rooms.
Dark brown L-shaped elements form the façade, which is replete with bougainvillea. Brown and beige are used on the front façade, which extends to a brown, glazed wall on the staircase facade that allows ample natural light into the stairwell and corridor. Functional zones are separated from each other, with a color palette that was inspired by the brand logo.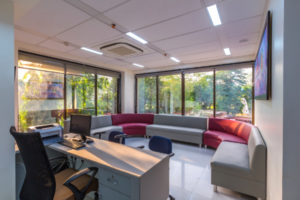 The reception area, pharmacy and minor consultation rooms are located on the ground and first floors, while specialty and critical care departments are designed on the second and third floors. The ICU wards are planned on the fourth floor, with the physiotherapy ward on the fifth floor.
Neutral tones of blue-grey and white are highlighted with yellow, tangerine, and magenta to feature the color scheme of the departments.
A blue-and-green scheme maintains a soothing environment in the operation theatre complex, and beige is used for the patient rooms. Lobbies have yellow hints in the door framework and floor patterns. Decorative screens and comfortable sofas are provided for the VIP rooms, and nurse stations are located to efficiently supervise the maximum number of rooms.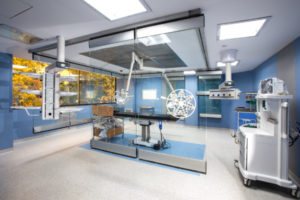 Movable glass panels isolate the operating area from the rest of the room-in-room operating theatre, with a dedicated ventilation system that induces positive air pressure and HEPA filters. A window which is vacuum-packed with blinds between the glass panels and sun-protection films, allows natural light in.
Airflow from the sterile, semi-sterile, and clean zones are managed, with medical equipment from the Theatre Sterile Supplies Unit (TSSU) mapped to avoid mix-ups.
The design thus met all the requisitions defined by the National Accreditation Board for Hospitals & Healthcare Providers (NABH).
---
For additional project specifications, please refer to Upasani Super Speciality Hospital project page.