Neuroaesthetics – The Architect in the Doctor's Coat
"Striking design!" is what we hear people exclaim when they come across an architectural structure that is appealing, in the general sense.
The appeal, in such cases, is a fine balance between aesthetics, ornamentation and functionality. The need for architects to bring out the feel or, in more contemporary terminology, the vibe in their designs, is the order of the day. While functionality is prioritized when it comes to designing healthcare facilities, for obvious reasons, aesthetics also plays an important part in enhancing the overall effectiveness of the facility, through accelerated healing. Enter neuroaesthetics, the architect in the doctor's coat!
In The Oxford Handbook of Empirical Aesthetics, Alexander Coburn and Anjan Chatterjee, describe neuroaesthetics in architecture as an emerging field that aims to investigate the neural and psychological implications of architectural design and to inspire the construction of built environments that support psychological experiences and wellbeing. In simpler words, it is an evolving scientific arena which explores how our perceptions, thoughts and emotions are dependent on and shaped by the interactions with the environment around us.
Around the globe, scientists and architects alike, are striving towards applying the principles of neuroaesthetics to design better and responsive spaces. Neuroaesthetics is of paramount importance, especially in the healthcare planning sector, where hospital designs should encourage healing. As healthcare facility planning and design experts, we at Shree Designs, do our bit towards the cause by translating the firm belief in our motto of Creating Healing Spaces, into action, in every project!
Application of Neuroaesthetics in Architecture
The application of neuroaesthetics in architecture varies in accordance with the purpose of the structure. For example, hospitals need to be designed to improve healing. Schools and educational institutions need to be designed to boost learning and activity. On the other hand, homes need to be designed to cater to various needs like comfort, ergonomics, healing and activity. While neuroaesthetics is a broad and complex science, architects involved in planning healthcare facilities can focus on the following elements to achieve optimum results.
Natural Light
Allowing natural sunlight to penetrate a structure helps to brighten up enclosures and makes them appear spacious. Also, solar rays help to keep bacteria and other microorganisms, at bay.
Ventilation
Quite like sunlight, fresh air also, helps to bring positive energy in enclosed spaces. Good ventilation is extremely critical in spaces like rehabilitation centres, wards, old-age homes, asylums and so on, where people tend to stay for longer durations. Open-able windows or other ventilation systems that allow the flow of fresh air, can be designed to serve the purpose.
Natural Elements
Irrespective of how fast-paced our lives are, we are knowingly or unknowingly influenced strongly by various natural elements in our vicinity. While it may not always be possible to grow a lawn adjoining the healthcare facility, we can incorporate natural elements, like planters, trees, landscapes, flowers and so on, within the facility itself. The very presence of these elements makes people feel connected to nature, brings about tranquillity and promotes healing.
Colour Play
Studies suggest that colours have direct impact on human emotions, so much so, that there's an alternate remedy through the therapeutic use of colours. From an architectural standpoint, using the right colours at the right places enhances the sensory appeal of the space. For example, a warm palette of yellow and orange encourages activity, a cool palette of blue and green stimulates calmness and so on.
Lighting
Where provision for natural light can't be made, smart use of artificial lighting can bring about significant improvement in the ambience and feel of the space. For instance, white lights give a bright, commercial feel; daylight-colour lamps give an ambient, homely feeling and yellow lights liven up restaurants and other places of social interest. Currently, artificial lighting is available in various temperatures, colours, intensities, shapes and sizes.
Effects of Neuroaesthetics in Architecture
To explain the effects of neuroaesthetics in architecture better, we would like to present few illustrations pertaining to recent project that Shree Designs, in close association with AARKA Consultants, had the wondrous opportunity to work on. The project involved re-planning and renovation of the unparalleled mental healthcare facility at the Masina Hospital (Mumbai). The hospital complex is a Grade II Heritage Structure providing clinical and surgical services with specialization in general medicine, paediatrics, dermatology, neurology, nephrology, gynaecology, oncology and many more, apart from its mental healthcare facility.
The following illustrative pictures of the project in its completed state, are apt examples of the application of the elements of neuroaesthetics in varying combinations, amplifying the effectiveness of the facility.
Entrance Facade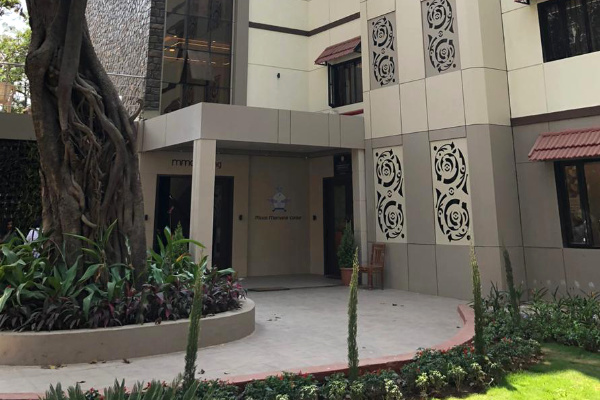 Points for Observation:
• Welcoming exterior, while retaining the rich heritage look of the campus.
• Natural elements like trees, plants and manicured lawn at the entrance, to create a calm and relaxed atmosphere.
Common Areas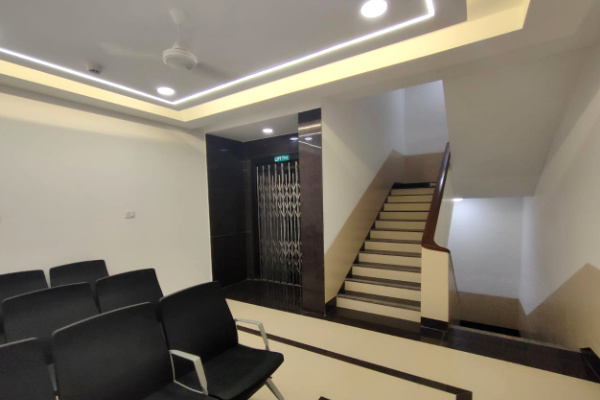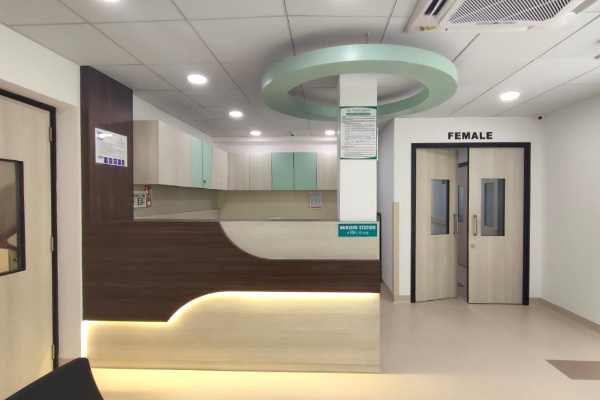 Points for Observation:
• Minimalistic, yet modern interiors with generous space for free movements.
• Palette of light and dark colours used tastefully, to create an elegant look.
• Artificial lighting used strategically, to give a roomy effect and provide adequate illumination in all dark areas, especially in the stairwells.
Lobbies and Corridors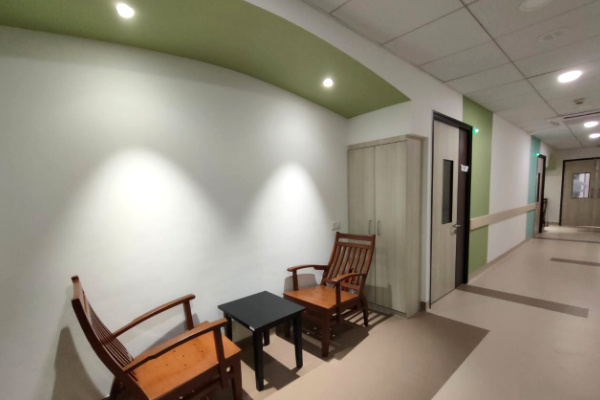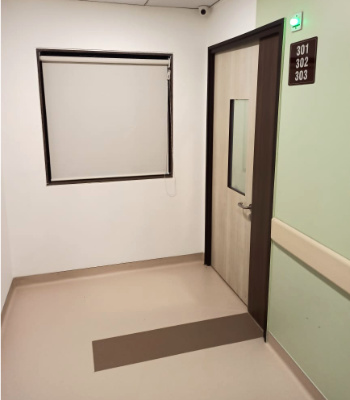 Points for Observation:
• Window at end of the patient room lobby, to allow natural light and ventilation.
• Well-lit breakout spaces in niches, for small counselling sessions.
• Ample room for patients to take a stroll, leisurely.
• Provision to install artwork created by the patients, to spruce up the empty walls and also, to inspire the patients to explore their artistic side.
• Friendly and cooling colours used for contouring and providing a refreshing atmosphere.
• Colour of the room doors, synchronized with the colour of the room interiors.
• Simple, easy-going flooring pattern bearing colour co-ordination with the door panels and providing directional references for the patients.
Rooms and Wards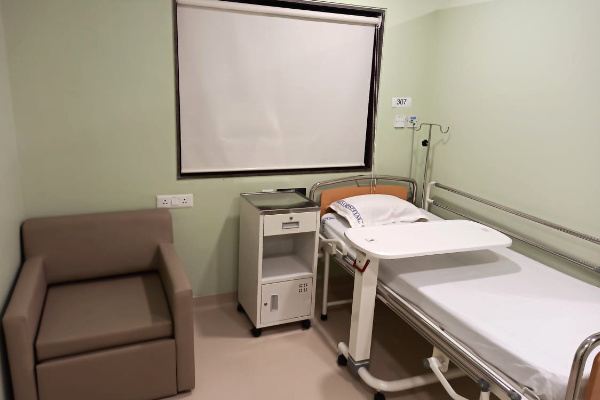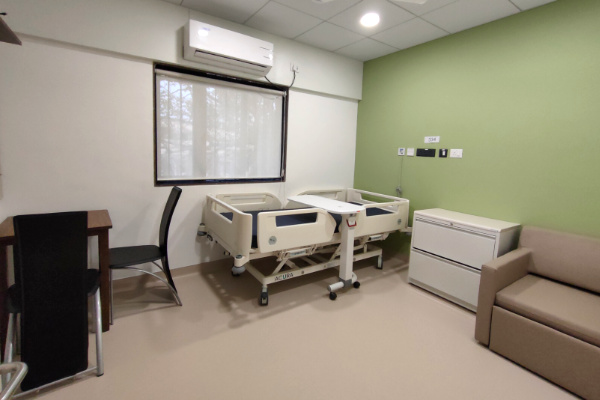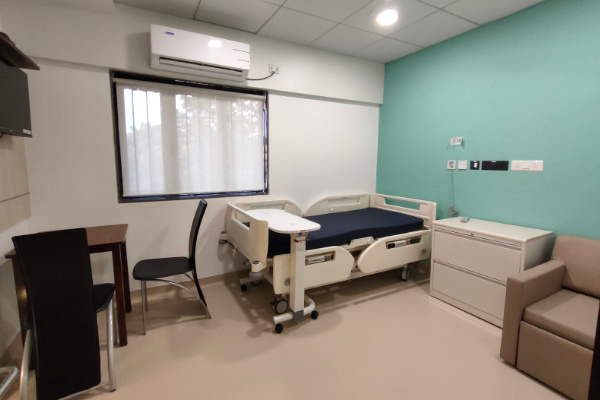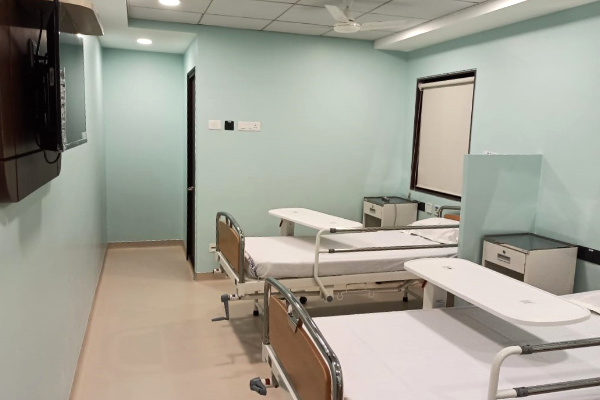 Points for Observation:
• Use of yellow-green and blue-green shades with furniture in neutral palette, to establish a homely feeling in the in-patient rooms.
• Use of pastel yellow-green and blue-green shades on all walls of the wards housing acute patients, to lower agitation and emanate soothing vibes.
Specialized Rooms and Wards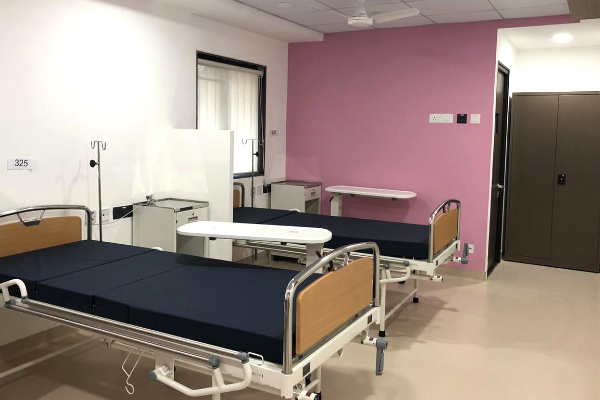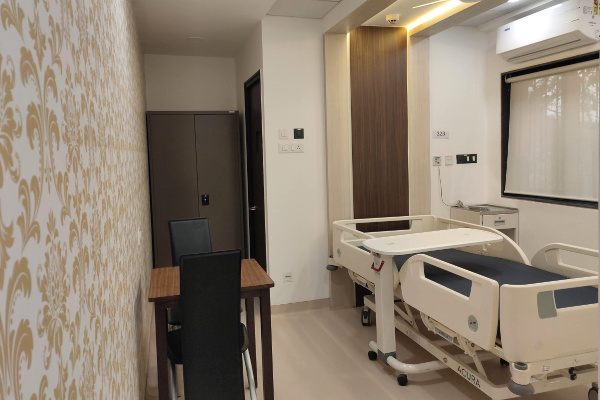 Points for Observation:
• Use of purple-pink highlights, to appeal to the younger patients admitted in the three-bed General Wards for Adolescents.
• Smart use of artificial lighting and highlighted wall with textured finish, to exude luxury in the Deluxe rooms.
Activity Rooms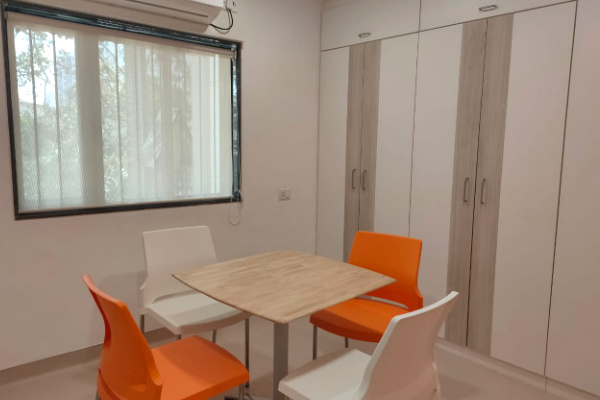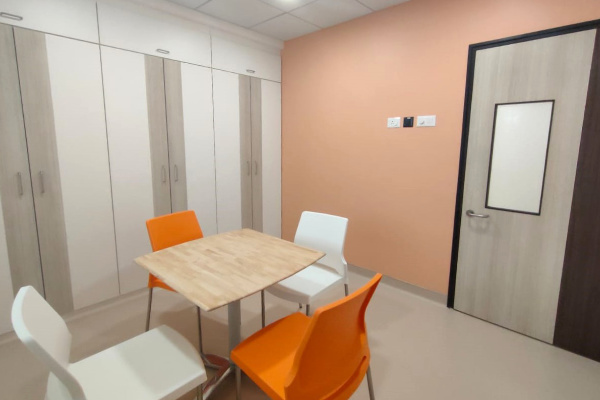 Point for Observation:
• Orange and peach colour shades used in Activity Rooms, to radiate energy and enthusiasm among the patients.
Common Factors Incorporated in the Entire Facility
• Windows allowing natural light, ventilation as well as views of beautiful landscapes and trees within the complex.
• Light fixtures with daylight illumination, to create an ambient and inviting atmosphere.
• Installation of necessary security fixtures, like sturdy grills with pleasing design on all windows, anti-suicidal fans and so on, to reduce the risk of self-harm among the patients.
Conclusion
Even at its nascent stage, research in the field of neuroaesthetics has profoundly helped architects achieve ground-breaking results, in terms of effectiveness of their designs. For us at Shree Designs, working on this specific project gave us numerous insights and acumen, which we incorporate in every project that we undertake. Through this journey, we discovered the vital role of empathy in the overall healthcare facility designing process. With the right inputs from the doctors and hospital staff, we got a broader perspective of the state of the patients and their needs.
This project did come with its fair share of challenges, both financial and structural, owing to the fact that it was a heritage building. However, keeping the end-user as our focal point and harnessing the elements of neuroaesthetics in diverse blends, helped our design achieve its maximum potential. The true reflection of this success is when the doctors and caregivers at the facility, thank us while sharing examples of patients experiencing calmness instantly, as they step into the facility, and responding to treatment procedures in a remarkably improved way. The credit for the same nonetheless, rightfully goes to neuroaesthetics, the architect in the doctor's coat!
Associate Architect,
Shree Designs – Healthcare Architects & Planning Consultants
---
Appendix
Click here for more details on the Department of Psychiatry – Masina Hospital (Mumbai) project.
Our heartfelt gratitude to Masina Hospital, for providing us with the opportunity to work on the hospital renovation project and also, our sincerest thanks to AARKA Consultants, for their invaluable collaboration in this and many more projects.
---
Additional References:
The Oxford Handbook of Empirical Aesthetics
When Neuroscience Meets Architecture
http://www.masinahospital.com/
---
Text curated by Sangam Ramachandran