Novel Coronavirus outbreak has put the world on the edge. We are constantly being updated about the research in developing curative measures and the infected patients being cared for in quarantined facilities that are isolated from the regular hospital wards. As healthcare facility planning and design experts, we come across questions pertaining to Isolation Rooms and whether it is possible to have one in a small healthcare facility setup. Here's our attempt to shed light on some of the pertinent ones.
What exactly, are Isolation Rooms?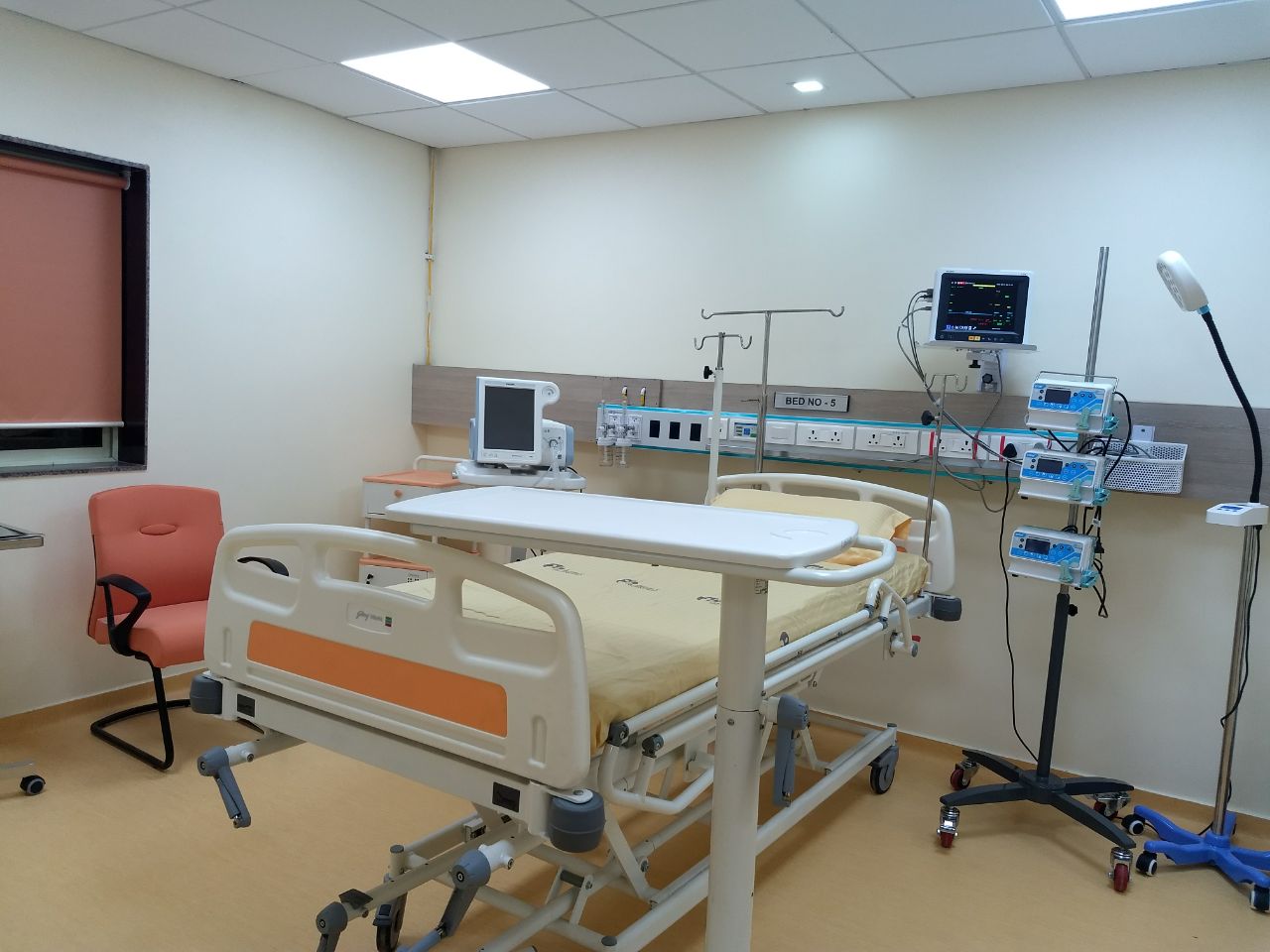 Isolation rooms, as the name suggests, are designed for intensive care of critically ill patients who need to be isolated from the rest of the patients and all other people visiting or working in the healthcare centre. The doctors, caregivers and anyone else coming in close contact with the patients, are protected from the risk of infection or contamination through body suits, masks and other protective gear depending on the nature of infection. The extent of isolation required can be broadly classified as per the three 3 types of patients viz. patients who only need additional monitoring, patients who are susceptible to infection and patients who have air-borne, contagious infections.
What Parameters are important for designing Isolation Rooms?
Consideration of Hospital Infection Control Measures while designing Isolation Rooms is of utmost importance. The primary focus must be on zoning, ventilation and sterilization. The needs pertaining to zoning or segregation and ventilation can be achieved by constructing air-locked lobbies and maintaining pressure differential in these areas. Simply put, air-locks prevent the passage of air between the contained area and its adjoining areas.
Adequate number of hand-washing and equipment sterilization facilities, within the patient care zone and at nursing stations, have to be factored into the layout of the rooms.
Following are the 10 most vital planning parameters for an efficient design of Isolation Rooms.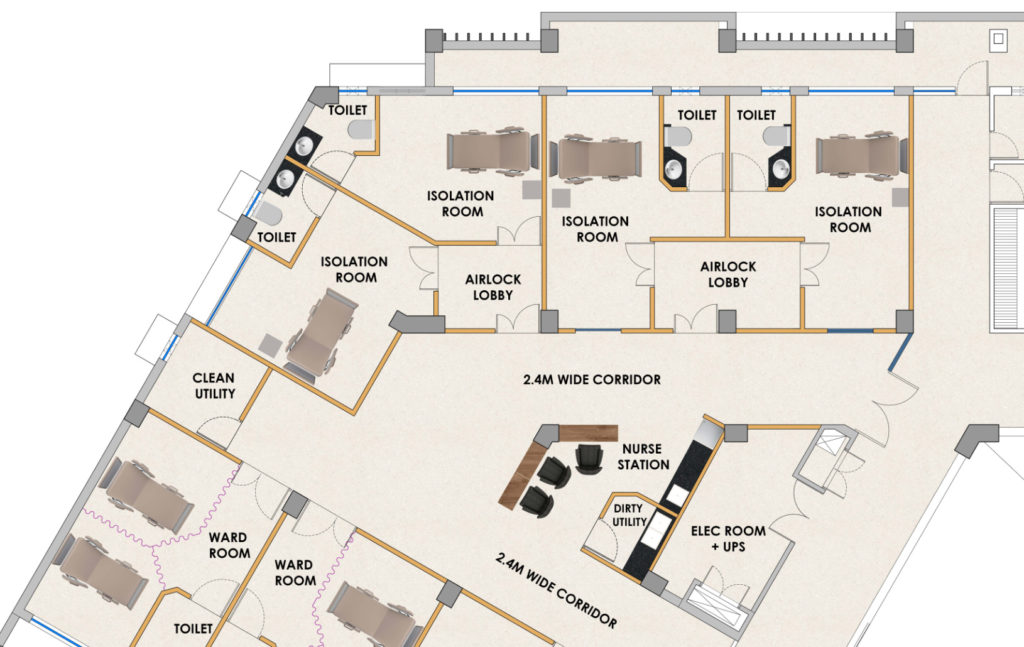 An area of 150 sq. ft. – 180 sq. ft. per bed with ensuite toilet and an air-locked ante-lobby at the point of entry.
Surplus electrical points, including heavy-duty ones, to connect various patient monitoring equipment and enough data points for central monitoring. It is preferred to have at least 50% of the points backed up by UPS power.
Multiple oxygen, suction and compressed air points at the bed-head for quick and easy access.
The electric and medical gas points can be arranged at the bed-head area either on a wall panel (fixed) or a ceiling pendant (fixed / flexible). Utility, ergonomics and ease of access during regular usage have to be borne in mind while designing.
Natural light is recommended to maintain the circadian rhythm of the patients. Artificial lighting for individual cubicles should be glare-free and controlled from within each cubicle, as per patient's preferences.
High-illumination, colour-corrected lighting required for medical procedures can be installed to the ceiling over each cubicle.
Floors and walls must be of impervious, seamless material with anti-bacterial / anti-fungal properties.
False ceilings, concealing wiring and reinforcing equipment, need to be modular for convenient access during repairs and maintenance.
Noise levels need to be minimal for patient's comfort and rest. External and internal noises can be effectively dampened by the use of soundproof partitions and sound-absorbing false ceiling tiles, respectively.
Provisions for security arrangements to prevent accidental or deliberate breach.
Are the air pressurization systems the same for all Isolation Rooms?
The air pressurization systems could differ on the basis of the nature of infection that needs to be stopped from spreading. On that front, Isolation Rooms can be classified as Positive Isolation Rooms and Negative Isolation Rooms.
Positive Isolation Rooms are for patients having compromised immune system consequently, being susceptible to infections.
The air supply volume should be greater than the exhaust air volume thereby, maintaining positive pressure within the room.
The direction of air flow must be from the room towards the adjacent spaces.
It's preferred to supply air into this room through a HEPA filter.
An air-locked lobby is optional but best provided, as a part of good design.
Negative Isolation Rooms are for patients having airborne infections.
The air supply volume should be lesser than the exhaust air volume thereby, maintaining negative pressure within the room.
The direction of air flow must be from the adjacent spaces towards the room.
It's preferred to not re-circulate air from this room.
An air-locked lobby for this room is absolutely essential.
Is it necessary to have a separate premises for the isolation rooms?
The elaborate design specifications of the Isolation Rooms can be best achieved on a standalone premises. However, by seeking the expertise of professional healthcare facility designers, one can meet optimum levels of these requirements in Intensive Care Units (ICUs) as well.
Conclusion
We are witnessing a surge in the outbreaks of highly contagious microorganisms such as the Nipah virus and the Novel Coronavirus. These outbreaks can turn into major epidemics if well-designed isolation facilities are unavailable until permanent curative measures are discovered. While the Government and other bodies associated with public health try their best in combating these situations, it is extremely vital for healthcare institutions to be well prepared, should the situation arise in their facility. The proverb, prevention is better than cure is befitting to describe the need to consult an expert in healthcare facility planning and design, right away!
Kshititi Nagarkar
Principal Architect,
Shree Designs – Healthcare Architects & Planning Consultants